To some, Marilyn is akin to a goddess. She had the hair. She had heads of state. She was seductive in that naughty "I'm a little bit bad, and I pretend to be a bit vapid, but really I'm just a whole lot of fun," kind of way. Even when she was posing for Playboy, there was a glamorous bit of taste thrown in as she posed on top of red velvet.
Others like Audrey, who managed to mix her girl-next-door naivety with an equal dose of grace. Her face was unique but held a demure beauty. Generations of women have held their heads up high to emulate her bearing since Roman Holiday earned her an Academy Award and shot her name out into the public sphere.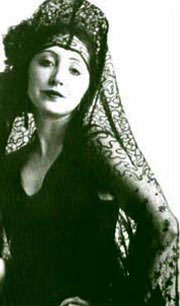 For me, Anais Nin is the closest thing I may ever have to a feminine and seductive role model. Instead of using her bad-girl sensuality or good-girl grace to captivate crowds, Anais used words. She also lived an internal life filled with books and letters. Her external life has caused some controversy, because she insisted to live by her own moral code.
While her fiction shows off her intellectual erotic style, the diaries published by Harcourt Brace Jovanovich offer a glimpse into her personal life and mind. Much like blogs try to do today, which makes sense. Blogs are diaries of a multi-media sort.
With so many authors of today and throughout history, their inner thoughts are lost unless they happen to be attached to the notes they kept for their books or in the letters they sent. Anais kept a detailed diary from the age of 11 until she died, giving the voyeurs of the literary world insight into her deepest thoughts and longings.
Probably the most well-known of her diaries,
the "first" volume (from 1931-1934)
chronicled her relationship with
Henry
and
June Miller
and was turned into the film
Henry and June
. It also set the stage for readers to question Anais's sexuality. In her journals, she writes about her sexual and romantic relationships with women, starting with June, who she is in love with almost to an obsession. At the same time, Anais and Henry spend much of their time trying to solve the mystery that is June, who seems to lie and has made her life into a giant game of pretend.
It's interesting to note Anais's first husband was not mentioned in the first volume; it is unclear where he is, what he is doing, why he allows his wife to spend so much time with the Millers, and what he would think of her need to be around June at the expense of everything else in her life.
More than her literary works, Anais's diary shows her to be a dreamer who escapes reality in her own head. For a few girls growing up today, it is easy to idealize someone over thirty years dead. To pick through her life and find clues on how to live a life more interesting and divine than 2007. However, we have a few advances over the men and women of the 30s, when her edited journals begin (not counting the later volumes of her earlier journals from her childhood on).We've made so many strides in social equality, it would be interesting to see if Anais would bother with erotic fiction in today's society and if she would have stayed with her husband or left with Henry and June.
I think I love Anais the most because of all the questions she answers with her journal, her writing leaves a mysterious air about her persona. Anais Nin: lover, dreamer, vulnerable child, author, mystery.